venkfoods@gmail.com
+91 9442223735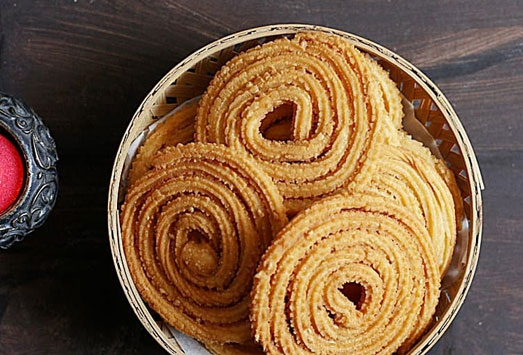 Recipe
Murukku
Murukku is known as Chakli in Maharashtra and Chakri in Gujarat. Murukku is prepared during all auspicious events and gathering of friends and family. Being a traditional item, it is easily available all in snack shops over the state, and also in other parts of India. It is eaten and relished by both young and old. The basic ingredient is rice.
Raw rice : 1 kilogram
UradDhal : 2 cups ( skin removed)
Sesame seeds til (ell in Tamil) : 2 teaspoons
Cumin seeds : 2 teaspoons
Asafoetidapowder : 1 teaspoon
Butter : 75 Grams
Salt : 2 and 1/2 teaspoons
Cooking Oil : 1 litre (preferably sunflower oil)
Water : 4 and 1/2 cups (for kneading flour)
For the stuffing
1. Soak one kg. raw rice in water for an hour and drain the water. Grind the softened rice in a blender, run it through a sieve and set aside 10 cups of fine rice flour. Roast the urad dhal in a dry frying pan till light brown in colour. Grind to a fine powder in the blender. Sieve and set aside 2 cups of fine urad dhal flour. Dissolve the Asafoetida powder in water.
2. Mix the rice and dhal flour together along with salt, sesame seeds, cumin seeds, butter and and the water with asafoetida, till you have a smooth dough with no lumps. Heat the oil in a frying pan over high. Take a small ball of dough and in the murukku maker. Squeeze, moving the murukku maker in a circular to make small murukkus. Make 5 or 6 of these directly onto a wet cloth or in plate that won't stick.Carefully drop the murukus one at a time into the hot oil.
3. Turn them over until both sides turn a golden brown in color. Remove and drain the excess oil and store the murukkus in airtight containers.