venkfoods@gmail.com
+91 9442223735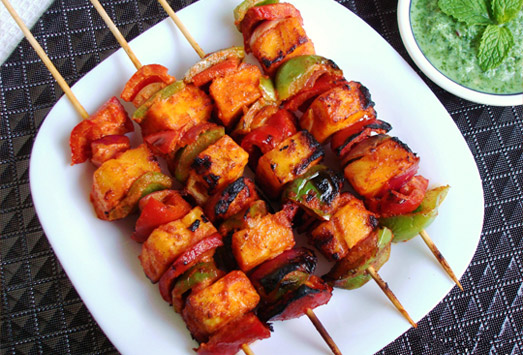 Recipe
Grilled Chilli Paneer
This healthy take on Chilli Paneer retains all the taste with very little oil. Good for your tastebuds and your diet!
Skimmed milk paneer
1 tbsp sunflower oil (any neutral tasting oil1 will work - try olive oil or vegetable)
1 medium red onion
4 garlic (lehsun) cloves
thumb sized piece of ginger (adrak)
1 red pepper
400g canned tomatoes
2 tbsp chilli sauce
2 tbsp sweet chilli sauce
2 tbsp tomato ketchup
1 tbsp low sodium soy sauce
Salt to taste
1. Cut the paneer into equal bite sized chunks. Lightly grease an oven tray and grill on high heat for 10 minutes, turning after 5 minutes.
2. Whilst the paneer is in the grill, finely dice ½ the red pepper and ½ of the onion into chunks or strips, as you prefer. I usually do a mixture of both. Set aside.
3. Pulse the remaining onion, the garlic and ginger in the food processor. Set aside.
4. Pulse the canned tomatoes and the remaining red pepper in the food processor.
5. Heat up the oil in a pan on medium heat. Sauté the onion, garlic and ginger mixture in the oil for 1 minute, stirring continuously.
6. Add in the diced red pepper and red onion and stir for another minute, stirring continuously.
7. Add in the pulsed canned tomatoes and red pepper. Slowly mix in the chilli sauce, sweet chilli sauce, ketchup, soy sauce and salt. Let the mixture cook for 3-4 minutes on a medium heat. Stir in the grilled paneer.
8. Serve with a minted yoghurt, coriander and naan.